Rami & Shlomy Alster - Colorful Blue
Saxophone, Trombone ; Jazz, Classical, Pop
Rami 052-2340200 , Shlomy 052-8084095
Rami & Shlomy Alster –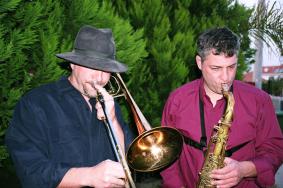 Colorful Blue
After years of playing together it seems that a unique sound is emerging, especially because of our strong connection to wind instruments and the variety of music we are influenced by. Our style moves from the familiar to the more complex and experimental pieces, while still maintaining our uniqueness in the more 'familiar' pieces.
Since 1995 we have founded many combos, some of them standard (saxophone, trombone, bass, drums, piano or guitar) and some more unusual such as four saxes, trombone and drums or a horn sextet and drums.
In these bands we play original music or unique arrangements to standards – Blues, Be Bop, Hard Bop, Latin Jazz, Funky, Ballads, Modal, a combination of Jewish and Arab music with Jazz, and experimental pieces which are less defined stylistically. Our music is both instrumental and vocal.
Our Latin Jazz album "A New Beginning" is currently sold on cd baby. The album consists of pieces influenced by different Latin styles: Brazilian (Bossa Nova, Samba, Capoeira) Afro-Cuban (Mambo, Cha-Cha-Cha) and more abstract modern Latin Jazz. Each piece has a different story, its own sound, and yet, there is also, an overall sound to the whole album, a distinct fingerprint to the whole project.
Recently we have finished our second album named as our group "Colorful Blue". If one can label music, we would label it a Hard Bop album. It has traditional elements as well as more modern or innovative pieces. It is mostly original but does have a few standards with arrangements giving them a different flavor.
Our Jazz and Latin Jazz mix on Youtube
We are currently finishing our funky/fusion album "Rebelution", again an entirely new world very different from previous albums.
Our Funky and Fusion mix on Youtube
On our albums and performances we collaborate with Israel's finest musicians.
For more information please go to "Our Albums"
For more music you can listen to us on soundcloud
Saxophone player, conductor, composer, arranger and teacher.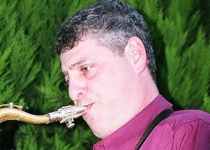 A graduate of Rimon school of Jazz and contemporary music in Jazz performance, arranging, symphonic orchestrating and conducting. B.A. in arts from the Zefat Academic college.
I've played with many big and small bands such as the Haifa Symphony orchetra and Big Band and the Holon Big Band.
Since 1990 I've been teaching saxophone, musical theory and ear training. I've been conducting, arranging and composing for Jazz ensembles, concert bands and songs (based on lyrics). In 2011 one of my compositions "Scenes from Kena'an" reached the finals in a composing competition (with Jewish orientation) and was performed by IDF concert band. In the recent years I've studied Jewish and Arab music and try to integrate it in my music usually fusing it with Jazz or Classical music.Two of my pieces, a symphonic piece "Creation of the 4 Elements" and a duet "My 12th Love" reached the finals in the acclaimed Ravel competition, and won 3 distinguished mentions.
Telephone:  Cellular: ++972-52-2340200
Email: ruff65@gmail.com
Trombone player, conductor, composer, arranger and teacher.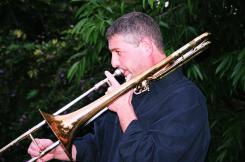 After my army service I studied with Micha Davis from the Israeli Philharmonic orchestra and Eli Aharoni from the Jerusalem Symphony. After that, three years in the Tel Aviv music academy (classical music) with the Israeli Philharmonic trombone players Ray Parnes and Stuart Taylor, and one year in the jazz department at WPSU in New-Jersey directed by the known bass player Rufus Reid and saxophone player David Demsey. At WPSU he studied trombone with two of the leading jazz trombone players today: Conrad Herwig and Ed Neumeister, and participated in ensambles directed by drummer John Reily (Village Vanguard big-band) and pianist Harold Mabern.
I've played with many big and small bands such as the Haifa, Hed and Holon Big Bands. Today most of my performances are with my band co led with my brother. Since 1999 I've been teaching trombone, musical theory and ear training. I've been arranging and composing for Jazz ensembles, concert bands Symphony orchestras and composing songs (based on lyrics that some of them I write).
Telephone: ++972-77-2103863 ; Cellular: ++972-52-8084095
Email: runster5@gmail.com